Business Process Management (BPM) & Project Managment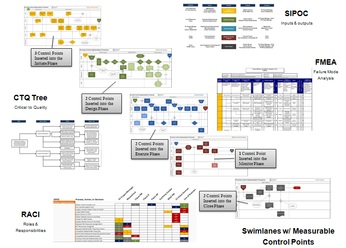 "Business process management (BPM) has been referred to as a "holistic management" approach to aligning an organization's business processes with the wants and needs of clients. It promotes business effectiveness and efficiency while striving for innovation, flexibility, and integration with technology. BPM attempts to improve processes continuously. It can therefore be described as a "process optimization process." It is argued that BPM enables organizations to be more efficient, more effective and more capable of change than a functionally focused, traditional hierarchical management approach..." -Wikipedia:
Read More
Do you need to define roles & responsibilities within your projects? Have you done a Failure Mode Analysis? What Control Points are mitigating your Business Risks? Is there a Control Plan and do you understand the Voice of the Customer? What factors are Critical to your product's Quality? If you have these questions or didn't realize you needed to ask them you need Business Process Management or BPM and Dwayne McCullough is exceptionally qualified to help you ask and answer these questions.
---
Process Dashboards

Understanding the Voice of the Customer with Process Management

How you do a task is called a Procedure. How you understand which Procedure to utilize is called the Process. The goal of documenting the Process is to produce meaningful understandings that can be used to improve the overall Procedures and in turn address the Voice of the Client.

---
Always Available for Project work...
Dwayne McCullough is always available for BPM, Project Manager, and other contract roles. Please Contact him
HERE
today for rate quotes or project consultations.
Resume Download is available HERE.
Tracking a Project
Often the challenge of any project is creating a clear understanding of the overall process and the procedures that will be utilized to reach the Project Goals. A well defined Project Dashboard can not only collect meaningful metrics, but prompts ownership of project tasks amongst the RACI members.
A Project Dashboard Example

A well defined project Dashboard is both a visual aid and a data recording mechanism. In this Project Dashboard we see track-able statuses in a visual and text readable format. We can see that 100% of track-able items are in the "Green" status. Additionally we see Escalation Contacts and available Project Resources should they be needed front and center. To the right we have listed the RACI (Responsible, Accountable, Consulted, Informed) members of the Project Team. Various displays could be utilized to include name, project role, contact information, etc...
---
Phase and Vendor Metrics

The next section in the dashboard tracks our project phases and various vendor metrics we need collect to ensure vendors are meeting their SLAs (Service Level Agreements, what the contract agrees they will deliver). Here we want to ensure that we somehow denote the expectations of the projects. In this example we see SLA number of days for fulfillment shown as "Allocated" days to each task (orange numbers).
---
Goals, Milestones, and Notes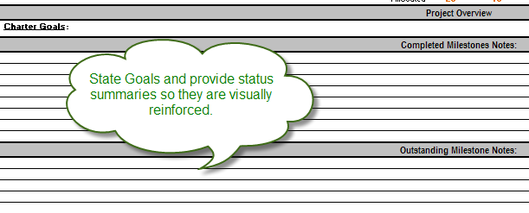 I cannot stress enough how important it is to set milestones and note when they are outstanding and completed. Everyone benefits during a project when they know for certain where everything stands.
---
Scheduled Milestones, Risks, Meetings and other tasks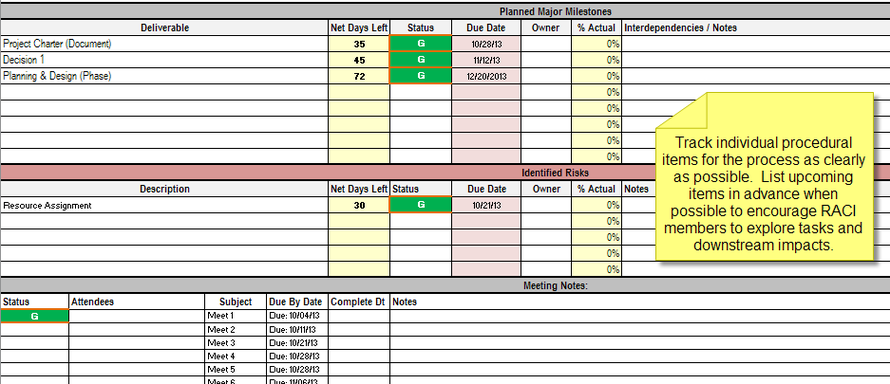 Note progress on Milestones in the notes section. How often do project members not "remember" agreeing to a task or procedure? Not with a good Project Dashboard! They may have "selective" memory, but the Dashboard displays the cold hard facts and Ownership is hard to dodge when it's in writing and updated on a regular basis. Use visual cues such as status colors to call out deliverables that are falling behind. Ensure that everyone knows about upcoming meetings or other responsibilities by setting clear due dates.
---
Other Events and the Dashboard KEY

The project example here has a clearly defined KEY to understanding the dashboard. This is vital to the Project's success. Clearly define what each status means.
---
Free to use! Download the above described Dashboard

Want to use this dashboard as a template for your projects? Download it
HERE
. It's free to use. I wrote some VBA that updates the overall project status. If you have questions about it
Contact Me
and I'll help you out if I can.
Note: the file is a "XLSM" meaning a Macro Enabled spreadsheet. You may need to alter your Excel security settings in order to run the macro, but I promise, there is no Malware, Trojans, or other nasty things in the file. Feel free to edit the sheet as you wish and if you need something custom please contact me and for a reasonable fee I'm happy to create something that is specific to your organizational needs.
---
Samples and downloads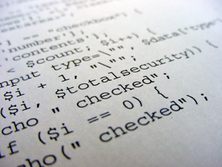 Code Samples for various systems are listed below. Please feel free to re-use, but please respect the author comments.
Here's all kind of stuff that I have no idea why I put on here other than it was fun to do with Google Docs.
Fire Fighting
|
Master Course
|
Masters
|
Radar
|
Resource Mngmt
|
Safety
|
Social
|
Survival
More stuff is on the way in terms of actual code samples and usable scripts. I need to make sure everything is sanitized first though so please stand by.
---